Waxing – Hot Wax for minimal discomfort and less frequent treatments
Hair removal from your Back, Chest, Legs, Arms, Neck, Ears & Nose.
We use Soothing Apricot Bees Wax.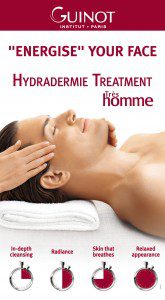 Your face is a window to the world. Following a complimentary skin diagnosis, pamper that window with a mini facial (radiance or intensive), or select from the following treatments:
Radiance
Intensive
Beaute Neuve Peel
Incorporating fruit acids and enzymes to deeply exfoliate the skin leaving it glowing and alive.
Guinot Aromatics
Using specifically blended plant extracts and essential oils.
Pro-Collagen Anti-Wrinkle
Guinot Hydradermie Treatments
Hydradermie
An exclusive Guinot treatment. This unique innovation enables fast and deep penetration of ionised treatment ingredients. Hydrodermie now achieves double ionisation with double the results.
Hydradermie Lift Express
A high-tech lifting treatment. Ideal for clients who want a quick treatment that includes cleansing, exfoliation and muscle stimulation.
Hydradermie Eye Lift
The Lift Treatment for the eyes. The muscles around the eyes will be exercised to tone and add firmness. Small wrinkles are erased, crows feet are smoothed and eyes look younger.
Hydradermie Age Logic
A specially designed anti-age Hydradermie facial concentrating on the eyes, face and neck. It includes cleansing, exfoliating, galvanic, high frequency, massage and mask.
Hydradermie Lift
The immediate lift treatment. Stimulates the facial muscles and provides a massage that lifts the facial features. From the very first session your face will look younger.
Hydradermie Lift Deluxe
The "Ultimate Lift" treatment. Hydradermie Age Logic and Hydradermie Lift Express.
Manicure
Complete nail and hand treatment including relaxing massage and buff.
European Manicure Treatment
Full Treatment of the hands and nails. Includes exfoliation of hands followed by intensive mask for the hands.
Spa Pedicare Treatment
Total luxury for the feet. Treatment includes nail and cuticle care, exfoliation of the foot. A relaxing massage of the foot and lower leg.
Mini Spa Pedicure Treatmen

t
Includes nail and cuticle care with foot exfoliation.
Reflexology
Working on the reflex points of the feet. Increases circulation. Relieves tension. Helping body functions return to normal.
We offer a choice of spa packages that let us pamper you. An indulgence guaranteed to leave you feeling and looking completely calm, nurtured and rejuvenated. For that special someone, or personal renewal.
The Rejuvenator
The rejuvenator includes an intensive 1 hour facial, lash/brow tint, back massage using aromatherapy oils, luxurious manicure and pedi-spa treatment. You will be served with tea, coffee or fresh juice while you are being pampered.
SPA Ultimate
The ultimate hydradermie facial, with lash and brow tint. Full body scrub and moisturise treatment, European manicure and European pedi-spa treatment. You will be served with tea, coffee or fresh juice while you are being pampered.
Sports Therapy
Incorporating a combination of massage techniques to treat sports people and athletes. It promotes fitness and good health to achieve optimum performance and recovery from injury. Encourages greater flexibility, improves muscle tone and enhanced work-out performance.
Benefic Thai Herbal Compress Massage
Embark on a sensory journey with the rich and delicious herbs and spices encased in a heated compress. The therapeutic properties of the oils, herbs and spices provide many benefits such as; anti-microbial, anti-inflammatory, anti-oxidant and sedative. A truly holistic experience!
Hot Stone Massage
Aromatherapy Massage
A nurturing therapeutic massage combined with the powerful healing properties of pure essential oils. These pure oils are blended to suit your individual needs, promoting harmony within every system of the body and encouraging healing and relaxation. Includes a half hour aromatherapy facial massage.
Swedish Massage
A firm yet soothing Swedish massage will help you to relax. It calms the nervous system which in turn reduces tension and alienates stress, as well as benefiting your whole circulation, your skin and tired aching muscles. A good introduction for people who are new to massage.
Professional Natural Therapies
Manaki Bodywork
Recognises your individual Energy Patterns and restores you back to your true self. Healing the Energy Pattern clears blocked energy caused by the many stresses that we can experience on a daily level. Manaki Bodywork encompasses four different healing treatments. Your practicianer will advise which of these treatments will be the most suited to your needs.
Indian Head Massage
A relaxing massage of the upper back, shoulders, neck and face. Gives instant relief from tension and stress symptoms.