Eyebrow Shaping.
Senna Form-A-Brow with Stencils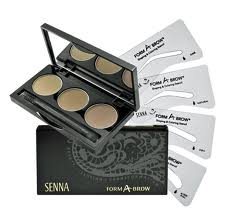 Eyebrows are one of the most important facial features and, apart from plastic surgery, the most changeable.
 Perfect Brows Will:
Improve your appearance instantly and dramatically.
Frame and balance your face.
Make your eyes look bigger.
Lift your face, taking off up to 10 years off your appearance.
Update your makeup look.
Make you feel more confident.
Form-A-Brow Kit with stencils
Brow coloring powders and classic brow stencils are the easiest and fastest way to create perfect brows in seconds. The patented stencil shapes also make a perfect guide for tweezing. Form-A-Brow Kit may be purchased from the clinic.