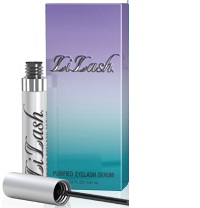 LiLash Purified Eyelash Serum
Nothing says beautiful like long, lush eyelashes… especially when they are your own. Fall in love with applying your mascara again as LiLash takes your lashes to new lengths. You have never experienced lashes so sexy. It is time to get started.
LiLash PURIFIED EYELASH CONDITIONER: SAFE. FAST. POWERFUL.
What's the secret to long eyelashes? Our incredible Lash Enhancing Factor, that's the Magic. Use LiLash daily as instructed and within weeks your conditioned follicles will give the appearance of dramatically longer and fuller eyelashes. This is the most powerful product for eyelash conditioning. LiLash is nonirritating.
YOUR FRIENDS WILL ENVY YOUR LONG, LUSCIOUS LASHES
Nothing is sexier than gorgeous, dramatic eyes. Now your own, conditioned real lashes are the ultimate accessory. Start using today and luxurious lashes will be yours, with the highest quality, fastest-acting follicle conditioning serum ever developed. And when friends ask you how you do it, just say "It's the magic juice for your lashes, LiLash!"