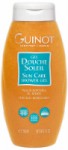 Sun Care Shower Gel 300ml – For sun kissed skin
Sun Care Shower Gel is a gentle foaming wash that removes all traces of sunscreen and UV filters, neutralises the harmful effects of chlorine and salt water, whilst preventing dehydration. Gel Douche Soleil is an easy 3 in 1 wash: cleansing, nourishing and protecting, complementing every safe sun care regime.
Neutralises the harmful effects of chlorine and salt water bathing.
Prevents dehydration which sun exposure can produce
The gel's delicate Vanilla-scented soft and pearly texture eliminates the residue of chemical filters and mineral sunscreen contained in sun products. The skin is left feeling refreshed and clean, preventing the clogging of sun screens that can lead to uneven tanning.
KEY INGREDIENTS
Jojoba Oil: moisturising properties and is non-comedogenic.
Vitamin E: powerful antioxident
Price: $35.00